Facilities
Stephan Lamb Associates

Our work shop is located in Lowell Massachusetts at 171 Lincoln Street. It has over five thousand square feet of space. The shop has a large, spacious area to build multiple layouts with a fully equipped custom paint area, a designated electronics bench area and complete modeling facilities.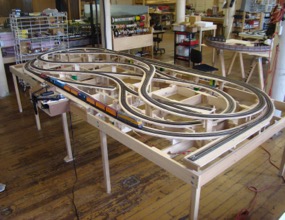 Photo shows multi-level 5' x 12' HO-Scale railroad.
All railroads are built in modular sections, so no project is too big. We take time to build it right and we stand behind our work.


Turnaround Time
We have a very fast turnaround time. For completion in our shop, the turnaround is normally from 2-6 months depending on the size of the project, or unless the client decides to schedule a longer period of time or extends the project. Once completed in the shop, then we pack and ship the railroad to your location. The work that we do in a few short months, saves years of time for our clients.







Photo of 3 level 14' x 23' HO-Scale layout.
On Site Service
Some of our clients would like us to build or work on the railroad at their location. If you need work done at your home or business, we have a crew ready to travel anywhere in the continental United States.
Note: Building of the railroad on location would take much more time and is subject to our remote work schedules. Location builds are not as cost effective compared to building it in our shop because of the limited work time and extra expenses for travel while on location.