Note: 10 Photos in slideshow. Phase #1 & #2 included 3,426 total man hours of labor.
Santa Fe & Union Pacific Railroad
Railroad Track Plan: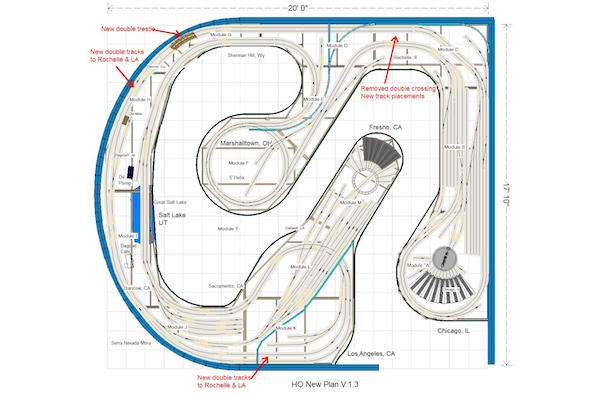 Railroad Requirements:
Layout Size 17' x 20'
NCE DCC Control System
Electronic Wiring
Code 83 Atlas Track
Four Yards
Two Turntables and Roundhouses
Stock Yard
Structure Lighting
Many Custom Structures
Custom Painted Elevated Train
Rocky Mountain Mine Scene
Mountain and City Backdrops
This client wanted a model Santa Fe & Union Pacific railroad. The layout features a 4-6 train operation. Travel to Chicago, Rochelle, Mashaltown, Sherman Hill, Salt Lake, the Rocky Mountains and Los Angeles.
[ Return to HO Scale Railroad Index ]